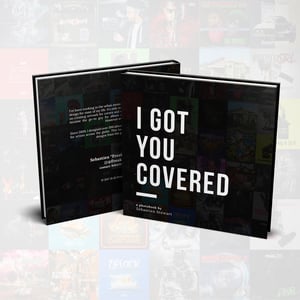 $

24.99
I've been working in the urban music industry and doing graphic design for most of my life. It's only in 2009 that I started to focus on creating artwork for covers and within a few years, I quickly became the go-to guy for album and mixtape covers in the Montreal area.
Since 2009, I designed over 500 covers for artists across the globe. This book showcases my favorite designs from the past years.
-
Featuring artwork for international artists: Gucci Mane, Method Man, OJ da Juicemann, OG Maco, Sonny Digital, Larry June, Que, Bankroll Fresh, BWA Kane, Sean Paine, Jose Guapo, JoJo Pellegrino, CFN TRapgod and more...
And Montreal's: Les Anticipateurs, Mike Shabb, MTLord, Jibré, Les 13 Salopards, Feros, Mike Gauge, Toks Dareefa, Franky Bragg, Paul Dzl, Woodman, Nino Ice, Rico Watts, Righteous, Rsvp, Jei Bandit, Ryder, Stallion, Huud, Dirty, Dean Risto, and more...